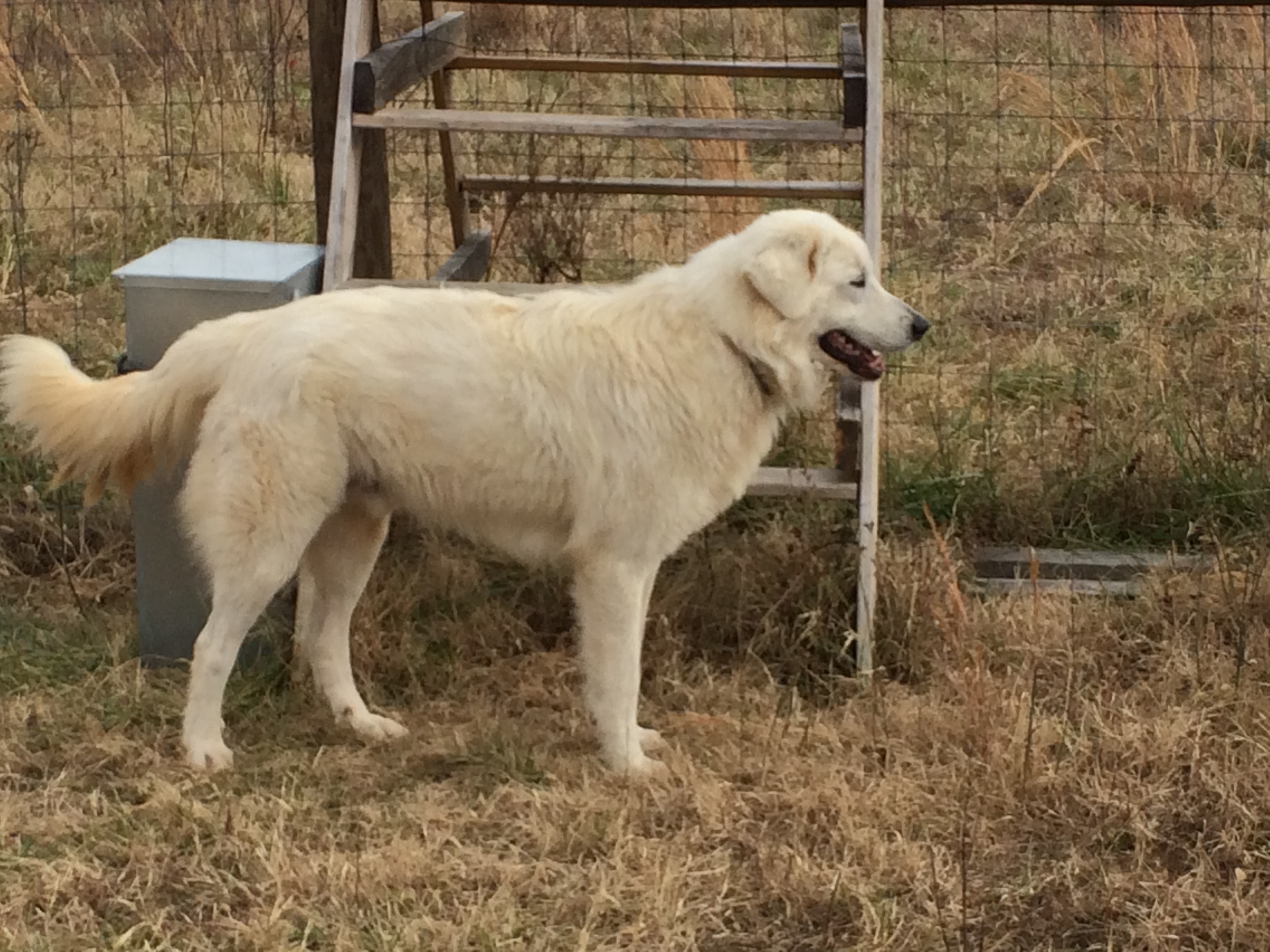 Maremma LGD
Adult guardian dogs available. All neutered or spayed. Great personalities. Limited number of companion dogs ready.
We breed, work and sell beautiful Maremma Livestock Guardian Dog (LGD field ready dogs (18 mos.+) Purebred, registrable, raised in the fields with livestock, acclimated to cattle and people.
In Italy, it is the most prevalent livestock guardian dog, working best as groups of 3-4. We suggest two. Our priority is to keep the dogs with calm & assertive, experienced owners working with livestock, farm, service dogs or working companions.
Maremma is an old world breed descended from working family dogs of the Italian Alps. Its principle function is guardian of your place, livestock and people. She is perceptive, assertive and devoted to her family pack.
 
A nice note from an Oregon rancher at the second home of one of our young females.
Breed Characteristics
The Maremma is a friendly and even keel guardian. Known as a Livestock Guardian Dog (LGD), it has also achieved success as a companion dog, working dog and in agility or obedience. Sober and dignified, this loyal, brave and determined dog makes an excellent guard dog without being a constant barker. It is more likely to communicate with one bark, watch, follow up while keeping its humans or livestock in close sight. It is correctly described as affectionate, loyal and aware of threats. It is very intelligent and its training requires mutual respect in handling and voice, and above all, consistency. It gets along with other dogs and pets and can be slightly reserved with strangers but not to excess. It takes its cue from the people it trusts. People who are not welcome on your property will be held at bay.
At 80-120 lbs., the Maremma is not as bulky as many of its fellow LDGs, but has equal strength. Alert and independent, it is less likely to play fetch. A flock guard of impressive dominance and lifelong dedication, this breed takes control over its flock. Training and calm assertive direction are important. The more powerful the dog, the greater the consequences of errors and poor training. Nevertheless, this rugged wolf-slayer breed has adapted into a marvelous companion, without losing its extraordinary conscience and working abilities. It will defend both house and master, and it is particularly attentive with children. The Maremma is a marvelous dog and loves its work. It is an enemy of predators and pests. She is held in high esteem by shepherds, especially in the Italian Alps where it thrives following humans and their flocks up the mountains as they seek fresh forage along the snow melt. In addition, its white coat and hearty constitution perform equally well in the southern US with adequate water, shade, companionship and summer nights. It is resistant to cold, rain and brambles.
All dogs are contented knowing what is expected of them and that their pack (or partnership) is stable. Dogs feel and understand their owners well. Dog behavior reflects the stability of the owner. Experienced owners should be calm, assertive and consistent in order for the dog to know what is expected. Dogs have to understand 'no' for danger and your displeasure. You can not add excess love to a dog to teach desired behavior.
Because of its size and strength, the Maremma is not typically a breed for beginners.
Need to remember how to reach this page? We can be found through any of the following. LGDMaremma.com, ItalianMaremma.com, MaremmaGuardian.com, MaremmaFarm.com, MaremmaBreeder.com, MaremmaKennel.com.
Our sire and dams are UKC registered.
We have registered and registrable UKC Italian Maremma Guardian dogs, our early stock were started with dogs out of geographically diverse homes from the american club. We are fans of the UKC and the North American families, ranches and farms who promoted this unique breed. We are also appreciate the internationally influenced lines.